general ledger Reports
| | |
| --- | --- |
| Unvouchered Receipts Listing | Last Revised: 02/05/14 |
Unvouchered Receipts Listing is used to display a detailed listing of items that were received but not invoiced. The operator can use this report to ensure that the totals are correct, as it will indicate if the credits in the unvouchered receipts general ledger is balanced with the unvouchered receipts amount.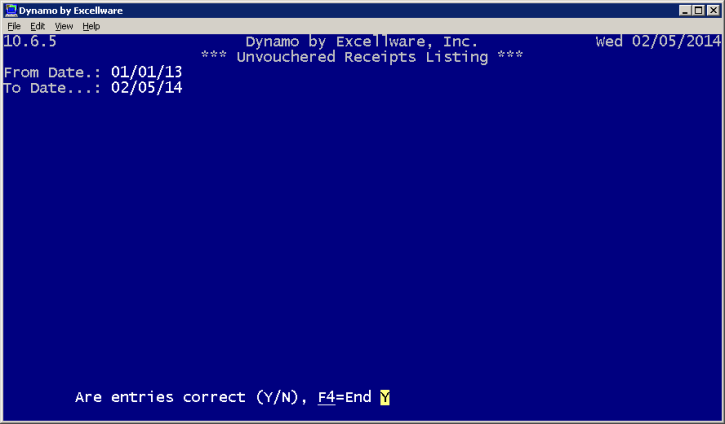 The report will display four different sections.
PO Receipts with balance to reconcile 
Displays the receipt number, the date received, the vendor name, the purchase order numbers, the receipt value, the invoice value, and the balance of each of these transactions.
Accounts Payable Invoices not yet linked to a PO receipt
Displays the vendor name, invoice number, invoice date, general ledger date, and the dollar amount.
The invoice MUST link to a receipt of a purchase order.
Manual GL Postings
Displays the date, the source code, the batch number, the reference, and the amount.
Summary
The bottom of the report lists the PO Receipts with balance to reconcile amount, the AP Invoices not yet linked to a PO receipt amount, the manual GL postings amount, and the total of those items. Following the total comes a comparison with the amount of the G/L Account associated with unvouchered receipts as well as the variance between that account and the unvouchered receipts listing.
The operator must choose a printer, a from date, and a to date.
Sample Unvouchered Receipts Listing.