B1G1 on Polycom VVX201 unil March 31st!
Excellware is currently offering a buy-one-get-one-free deal on the Polycom VVX 201 deskphone when you sign up for RingCentral business phone service. Getting half of your phones for free—and being able to drop the local phone bill from your bottom line—makes this another great time to revisit RingCentral as your full communications solution.
*Terms and conditions: Applies only to the Polycom VVX 201, value of $99 USD/$149 CAD. This offer is valid from 1/1/17 – 3/31/17. Minimum of a three-year contract required. This offer does not apply to demo accounts or partner discount accounts. Limited to 50 free phones per account. If a device other than the Polycom VVX 201 is wanted, the customer can receive a $50 USD/$50 CAD hardware discount, service not included. Phone discount is limited to 100 phones. Applicable taxes will be charged based on the full price of the devices.
Excellware sells, supports, and uses RingCentral — a modern, full-featured, cloud-based telephone system that is pefect for small and large businesses, even with multiple locations.
Eliminate all dedicated copper telephone wiring as RingCentral phones plug into the same ethernet switch used by your computer equipment. Plug your PC's ethernet cable into your phone and eliminate the need for two wires to each desk.  And since RingCentral is cloud-based, there is no need for an expensive, on-site server.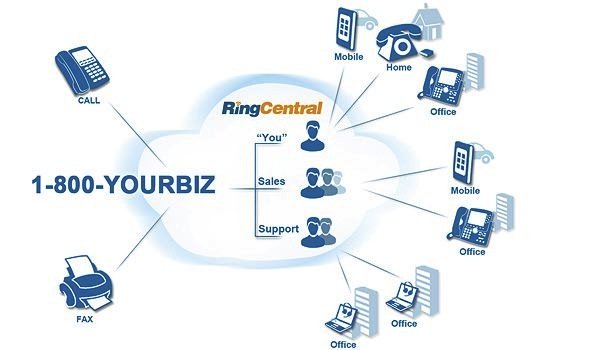 Other features:

Uses existing internet connection for all inbound and outbound calls

Provides optional Interactive Voice Response (IVR) (e.g. Press 1 for Sales)

Integration with employer- or employee- provided cell phones, tablets, laptops and desktops
Business phone, text messaging, and faxing capabilities across devices
Fax almost any type of document directly from any device without converting or needing a hard copy
"Flip" calls to other devices without disconnecting your current call

Custom ring tones and hold music using any mp3 files

Fully integrated with Google Apps for Work so you can call anyone of your Contacts

Google Chrome extension lets you call numbers with a click
Monitor missed, inbound, and outbound call statistics with custom reports

Change user settings on-the-fly at the administrator level and allow individual users to change their own settings as needed

Inbound 800 numbers available so customers can contact you toll-free

Transfer your existing phone numbers to RingCentral with ease

Set up rules to handle calls differently during and after business hours—also on holidays

Scalable based on the size of your business. Add one or one hundred lines!

View the demo page to get an inside look of how your RingCentral system can be managed. Also watch the overview and ease-of-management videos and discover some of the other exciting features RingCentral has to offer!
Pricing: 
RingCentral offers 3 tiers of features to accomodate any business. Dig deeper with a comprehensive comparison of features available with each edition.  You can also explore your new device choices by picking out phones that work with RingCentral right out of the box.
You can also contact us when you are ready to get a quote or just get some more information on how we can implement RingCentral at your organization.
 Standard Edition Pricing
 
Annual Price
(per user) 
Monthly Price
with Contract
(per user) 

Monthly Price
No Contract
(per user)
 
1 user
$34.99/mo x 12
$42.99/mo
$49.99/mo
2-19 users
$24.99/mo x 12
$27.99/mo
$34.99/mo
20-99 users
$21.99/mo x 12
$24.99/mo
$31.99/mo
100-999 users
$19.99/mo x 12
$22.99/mo
$29.99/mo
1000+ users
contact us
 Premium Edition Pricing
 
Annual Price
(per user) 
Monthly Price
with Contract
(per user) 

Monthly Price
No Contract
(per user)
 
1 user
$44.99/mo x 12
$47.99/mo
$54.99/mo
2-19 users
$34.99/mo x 12
$37.99/mo
$44.99/mo
20-99 users
$31.99/mo x 12
$34.99/mo
$41.99/mo
100-999 users
$29.99/mo x 12
$32.99/mo
$39.99/mo
1000+ users
contact us
 Enterprise Edition Pricing

 
Annual Price
(per user) 
Monthly Price
with Contract
(per user) 

Monthly Price
No Contract
(per user)
 
1 user
$59.99/mo x 12
$62.99/mo
$69.99/mo
2-19 users
$49.99/mo x 12
$52.99/mo
$59.99/mo
20-99 users
$44.99/mo x 12
$47.99/mo
$54.99/mo
100-999 users
$39.99/mo x 12
$42.99/mo
$49.99/mo
1000+ users
contact us
---